YAMAHA V-STAR 1100 RAM AIR INTAKE AIR CLEANER MODIFICATION
The V-STAR 1100 RAM AIR INTAKE improves intake airflow and engine power. These instructions and parts transform any V-Star 1100 or Dragstar 1100 model OEM air cleaner assembly into a Ram Air Intake.
IMPROVE THE PERFORMANCE AND LOOKS OF YOUR 1999 - 2008 V-STAR 1100 or DRAGSTAR 1100 MOTORCYCLE
Add to the great classic appearance of the V-Star 1100 air cleaner and get the benefits of Ram Air Intake. Hundreds of worldwide V-Star and Dragstar 1100 riders know it WORKS!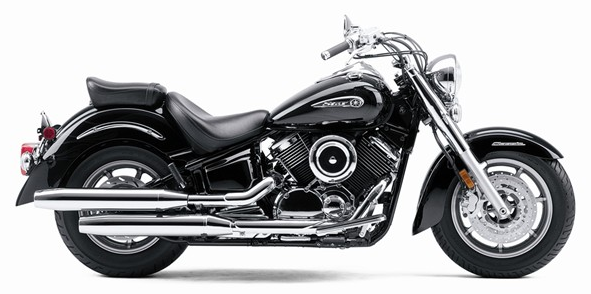 Customize and Personalize your Bike with Round, Oval, or Hearts Intake.
NEW AND IMPROVED ADDED PERFORMANCE MODIFICATIONS
Ram Air Intake improves intake airflow to increase engine power and improve gas mileage. These instructions and parts transform any model of V-Star 1100 air cleaner assembly into a Ram Air Intake. Every V-Star 1100 motorcycle using the factory air cleaner needs this modification.
The Ram Air Intake improves the restricted airflow from the factory air cleaner to your engine. The V-Star 1100 air cleaner is poorly designed and needs improvement. This intelligently engineered and attractive modification relocates the air intake for cooler air, and increases airflow effeciency for improved engine performance. The Ram Air Intake looks GREAT and works to provide cooler increased airflow. You will feel the V-Star RAM AIR INTAKE changes.
This is an inexpensive and great looking modification for anyone wanting increased intake airflow and power. Why pay hundreds of dollars for aftermarket intake systems only to be disappointed. The Ram Air Intake improves the looks and significantly increases intake airflow on your V-Star 1100 for much less.
Intake improvements can increase horsepower and performance more than exhaust modification. Exhaust improvements without intake changes produces mild results. Exhaust improvements with a stock factory air cleaner can choke the engine and pull crankcase oil into the air delivery system. Your engine will breath easier with these internal air cleaner changes. All V-Star 1100 motorcycles need this modification. The optional black intake screen can make the Ram Air Intake completely unnoticable.
This modification is for anyone thinking about modifying their factory air cleaner, or they have already changed their exhaust and done nothing to the air cleaner. Even if you have done nothing to your exhaust, these instructions show multiple changes you can make to improve airflow in your V-Star 1100 air cleaner. Some changes are very easy and take minutes to make, others require more time and are moderately easy. Buy the Ram Air Intake modification now and immediately make the easy changes, then make other changes later. The intake and engine information can also save you money and time with V-Star modifications.
Install the great looking Ram Air Intake to your V-Star 1100 motorcycle without any carburetor changes. The Ram Air Intake does not require carburetor jetting. Internal air cleaner modification can be made for your desired increase in airflow.
The V-STAR Ram Air Intake Modification includes informative engine information and do-it-yourself instructions with internal air cleaner parts to modify your air cleaner assembly. These instructions and parts make the air cleaner modification moderately easy to accomplish. Instructions are included to make round, oval, or heart shaped intake. Tools and a drill are required for some modifications.
This modification is 18 pages of printed information and detailed D-Y-I instruction plans, and four simple internal air cleaner parts mailed by USPS.
Buy it Now! Internet Price $20.00
Increase the performance and looks of your V-Star 1100 motorcycle!
UNITED STATES BUYERS - Click here.
CANADIAN, EUROPEAN, And AUSTRALIAN INTERNATIONAL BUYERS - Click here.
Cost for shipping and handling is $2.95 for USPS in the United States. Canadian, Australian, and European buyers add $2.00 extra S/H. Other international buyers email before purchasing. Please pay with money order, cash, check, gold, silver, or PayPal. Buy with confidence. Money Back Guarantee if you are not satisfied.

V-STAR 1100 Ram Air Cleaner Modification available on eBay for immediate purchase with Buy-It-Now auction.
Ebay and auction fees increases price by 20%. Save money buy here with PayPal, or send cash, money order or check with order form.
Fast delivery - mailed usually same or next day.
No Risk or Regrets with Money Back Guarantee.
Your bike will run better - GUARANTEED!
As a motorcyle rider and mechanic since my first 1971 Yamaha 250, and a V-Star rider for 7 years, I developed this modification to improve the performance of the V-Star 1100 for myself and friends. I have received only positive responses from riders that use or see this product. This product is more than just holes in the air cleaner, it is the parts and instructions to save you time to do the best modification of your air cleaner.

If I were to make only one modification to a V-Star 1100, this would be it. Every V-Star 1100 and Dragstar 1100 using the factory air cleaner needs this modification. The Ram Air Intake is a great product and value, and it works to provide cooler increased airflow to your engine - and cooler increased airflow produces more power.
The Ram Air Intake works similiar to the Yamaha Speedstar air cleaner part number STR-5KS09-57-01, except the Ram Air looks better and costs less. Both products increase airflow to the engine. V-Star riders may be concerned about the effects of the Ram Air Intake on their motorcycle engine. The Yamaha Speedstar air cleaner and V-Star Ram Air Intake will function about the same in normal riding and riding in the rain. Riding in heavy rain is not only dangerous, and should probably be avoided with either the V-Star Ram Air or Speedstar. However, the Ram Air was designed so the front air holes can be covered with tape during riding in the rain (engine performance would decrease). It is suggested that a K&N filter be used with the Ram Air Intake for increased airflow and will allow the rider to dry the filter if it does get wet during riding in rain. The Speedstar has a paper filter and may not do as well in any rain riding. Check with your dealer for warranty coverage with any modifications. Ignore the opinion based Internet forum naysayers and competing seller's that have either difficiencies or disorders, or both.
Read the positive eBay feedback and let V-Star riders tell you what they think about the V-Star 1100 Ram Air Intake. Competitors and opinion based negative critique do not stand up to the 100% feedback from worldwide V-Star and Dragstar riders that use the Ram Air Intake!
*Impressive, easy mod, and works better than I expected. Impressive performance.
*Clear instructions good info easy mods very pleased thank you Super Seller a+++
*Verry Good Seller!! Verry Fast!! in 5 days from the USA!!! A+++
*Going to be fun putting it on, Thank You for the quick delivery!!!!
*Instructions are clear, easy and informative. Extremely satisfied. A+
*Item Is As Explained...I Did Get an Extra 15 Miles per Tank* Highly Recommended
*Fast shipping, and good direction on what needed to be done
*Cleaner mod was super easy... Awsome service... Thanks
*Fast delivery, great communication, and the best modification for the price.
*GOOD PRODUCT, GOOD SELLER A++++fast shipping
* Instld item, Got better hi spd throttle rspnse+3mpg more driving into high wind!
*rec'd item, just as described, Great deal, will buy again! :):):):):)
*WOW as stated. Great product!
* Great information! A lot of thinking behind system. Excellent !!!
* No punches pulled.
* Lots of instructions and some cool stuff. It's a bargain. A+++
* Great information, Great price, Very informative. A+++
* Great directions, really easy, worked great. Thank you.
* Lightning fast shipping! SUPER SELLER!! Great communication!
* Looks nice just what I wanted thanks. AAA+++
* Great transaction. Easy to follow instructions.
* Item exactly as stated, a very good product. A+

Read the positive email received from V-Star riders after installing and testing the V-Star 1100 Ram Air Intake:
Dear Sir:
Your product was simple to install. The power gains I received are between 60 and 85 mph. This is where you can realy tell the difference. On my first tank of gas I jumped 6 mpg.
Just wanted to say thanks. Every 1100 owner should have this product.
Thanks again.
Dear alien_buyer,
I finally got the chance to install this item last night, and have been waiting to leave feedback until I did so. Please, don't think I forgot about you. I rode to work this morning and noticed a big difference in the torque, especially at highway speed. I'll check mpg this afternoon.
Dear alien_buyer,
Thanks for being patient with my feedback. As I told you, I got better throttle response at highway speeds, along with an improved 3mpg, even driving into a strong head wind. I can't wait to ride on a more pleasant day and see what the mpg improvement is! Thanks for offering a modification like this, as I can't afford a $300 hypercharger!
Mark,
Got low end & hi end torque. What a difference! Just ordered a K & N Filter.
Regards,
Email received 9-6-08
I wanted to let you know that I have installed the kit and have had a chance to observe the performance. I have noticed an increase in power and my gas mileage has increased about 5 MPG. The installation was fairly simple and had it installed in about 1 1/2 hours. I learned much about the V Star fuel system from the excellent documentation you provided. Thanks for an inexpensive upgrade that made a lot of difference in my bike's performance.
Have the V-Star Ram Air Cleaner Modification done for you
Automotive or motorcycle shops may modify your air cleaner. Optionally, send us your air cleaner and we will complete the V-STAR 1100 Ram Air modification for you. This service is available for $70.00. Print the shipping form and mail your air cleaner back cover and flat air cleaner plate with payment.
Click here to PRINT ORDER / SHIPPING FORM
Ram Air orders are completed and return shipped in 3 business days.
Other FREE V-Star and Dragstar Modifications and Tips
INSTRUCTIONS MAKE VSTAR MODIFICATIONS SIMPLE, EASY, AND PROBLEM FREE
Check Your V-Star Starter for Twist and Paint your V-Star 1100 Starter
EASY AIS Disable / Bypass / Remove - No Air No AIS
V-Star Yamaha Driving / Passing Lights Bar Cover Modification
V-Star Carburetor Cleaning Bowl Screw Removal After Stripping and Pilot Cap Removal
Coming SOON - email for immediate information
V-Star Carburetor Fuel Drain for Storage
V-Star Oil Change Without Exhaust Removal and Tips
OTHER PRODUCTS
Help support this website and other riders with contributions for continued development of V-Star Dragstar modifications and tips. If these modifications and tips help you, please donate to support my time and expenses. If you have money, please help others by supporting this development and documentation.
Email me at mark@brazilmission.net with any questions or reservations you have about buying the V-Star Ram Air Intake modification. Local Kansas City area riders can buy w/o S/H or have a V-Star Ram Air Cleaner Modification installed - email for KC address.
I want to see V-Star riders enjoying this product and see photos of their bikes on the
VStar1100.com Internet picture gallery.
View other biker's great VStar motorcycles and get helpful information and links.
Visit the VStar1100.com website.
We hope to improve the motorcycle experience for V-Star riders.
Look for future great products for V-Star motorcycles at this website.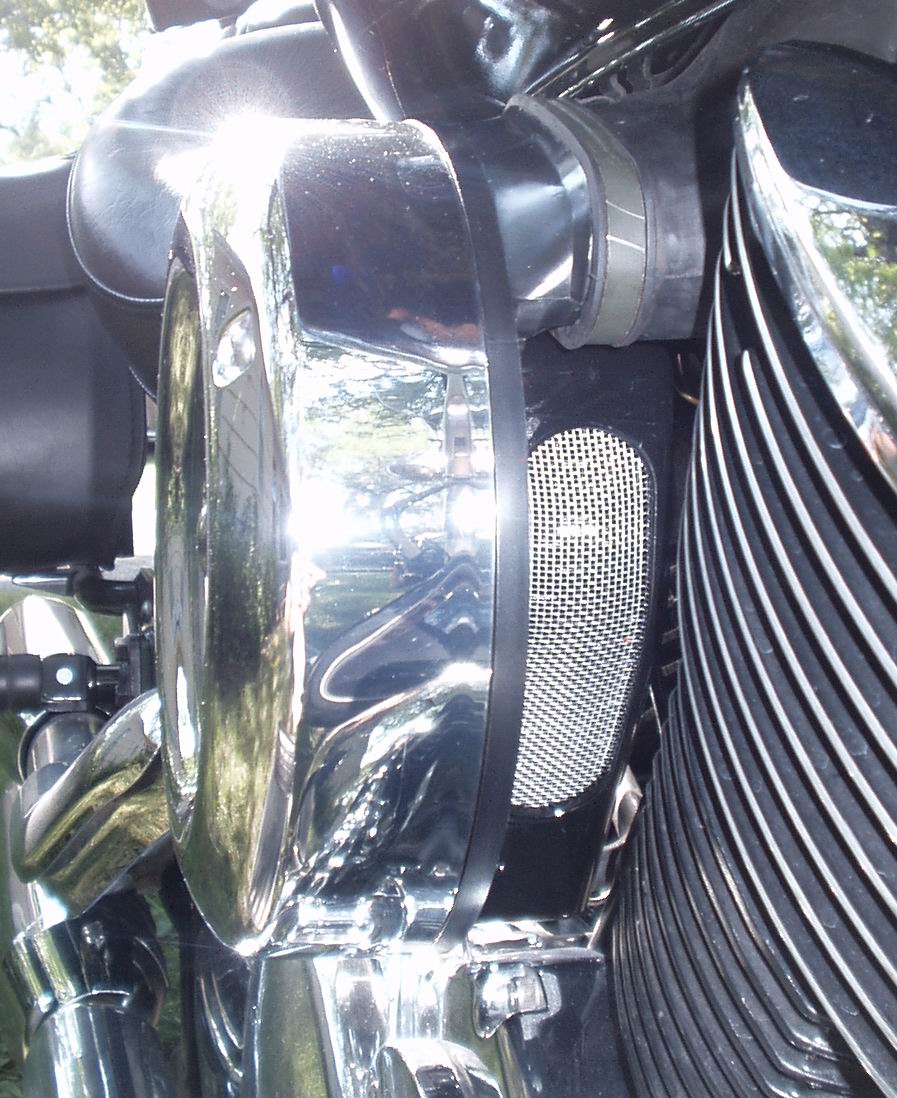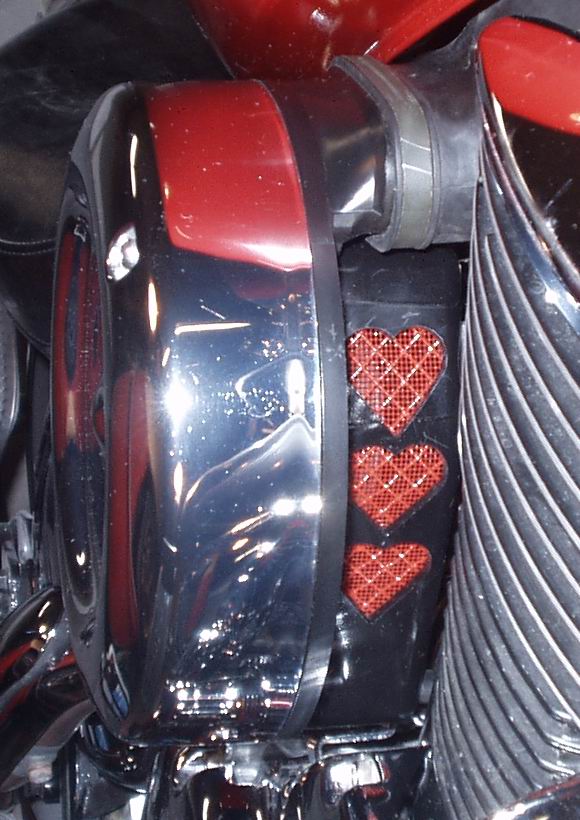 NEW Ram Air Intake Design
ADD HEART TO YOUR V-STAR / DRAGSTAR 1100
Customize and Personalize your bike with hearts on your Ram Air Cleaner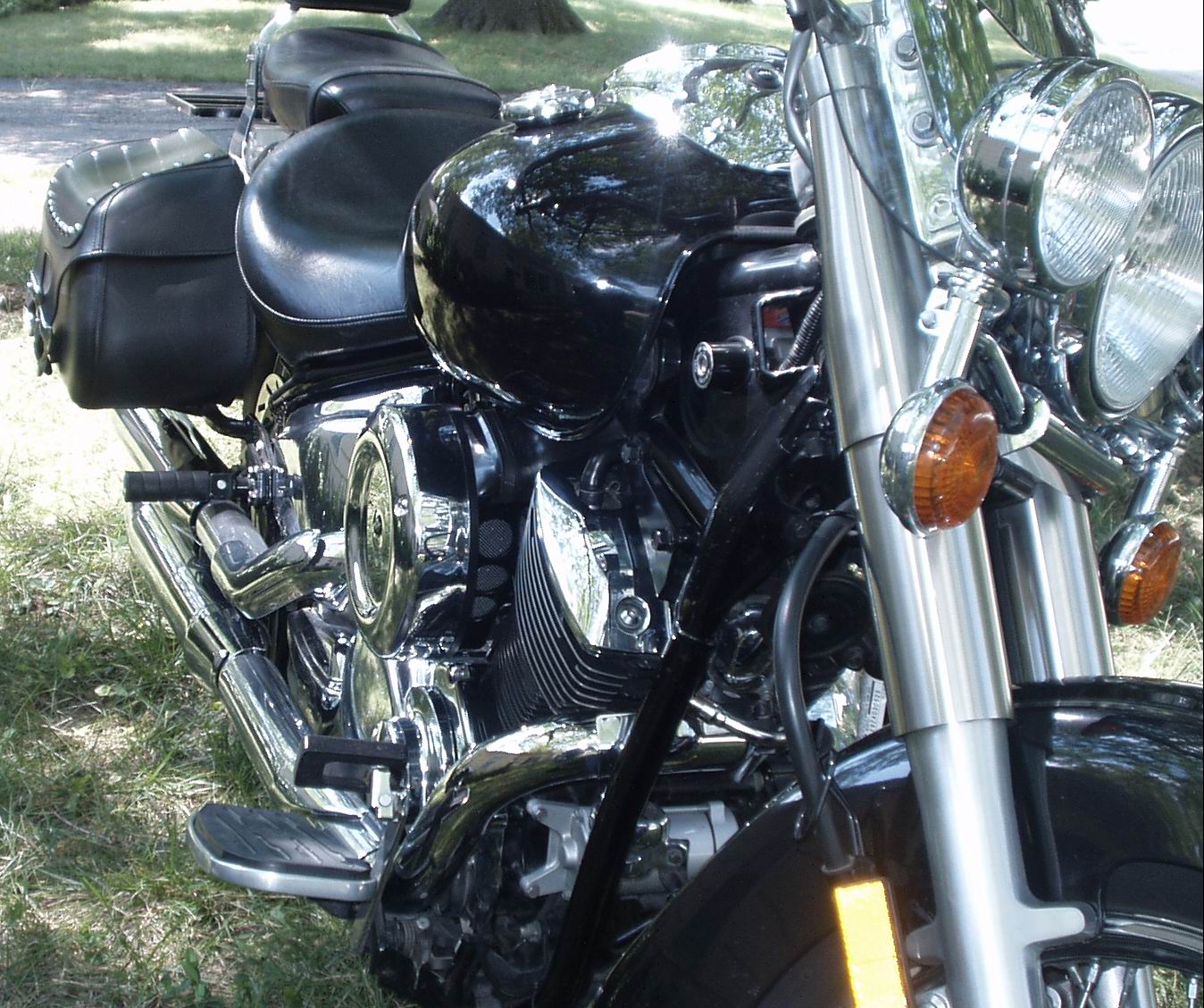 This is my 2002 V-Star 1100. Notice the silver starter. I painted it black and it looks better.

Have a good day and a safe ride. And respect other riders.